Sunday, July 25, 2010
WS Trading Card Game
For this post. I'm going to introduce to anime lovers to a trading card game. Its named as WeiBSchwarz aka WS in short.
Ok, so what's so interesting about this card you guys may ask. Simple. The card is baed on anime!
There's a few series released thus far, and I myself is a player of this card game :D
I'm using LuckyStar deck. Based on the traits of "Twins" and "Snacks". You guys may guess what character in the deck I'm playing consist of. Its Kagami and Tsukasa :D
The only downside of this game is that it's in Japanese, with only 1 deck translated into English, which is the Disgaea deck. Bushiroad ( The company ) which created this game is planning to release more English deck in the near future as there's a increasing amount of players in Western countries.
And in Singapore and several other countries around the world, there's actually tournament monthly, in different shops. Which they will combine all the points gained, in a league system. And year end, top player will be sent to Japan for the tournament.
I myself joined a few times in the past as well. Just for the fun of it, and to absorb the tense atmosphere =)
For the game play style and card translation, you guys can head to http://ws.nk-ds.org/index.php/rules-and-qa/
For the official website, its @ http://ws-tcg.com/
For the official blog ( In English ) which shows the tournament all around the world, head to http://bushiroaden.blog126.fc2.com/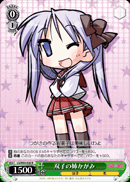 And this card here, is what I actually bought tons of booster to get it. Yeah, its that damn rare. And I manage to get one =)
Kelvin aka Shao
Labels: WS
posted by Kuchiki @ 11:48 AM